Easy-to-use email encryption for organisations

Flexible and scalable email encryption – easy to use, secure, GDPR-compliant
REDDCRYPT is mail server independent, works with Microsoft 365 (former Office 365) and every mail provider. You and your counterpart do not need any kind of special infrastructure. There is no complex certificate management and you are good to go within minutes.
User-friendly for sender and recipient
We think email encryption should be easy and accessible for both parties. However, many software developers only consider the sender's experience, which often leads to little acceptance from recipients. If recipients do not use email encryption solutions due to lack of usability or because of technical hurdles, even the sender has no added value from using email encryption.
That is why REDDCRYPT focuses on user-comfort – for the sender as well as the recipient.
Besides the integration into Microsoft Outlook, REDDCRYPT is available for different devices and OS such as Windows, Linux and for smartphones.
Web App
Mobile Apps
Windows App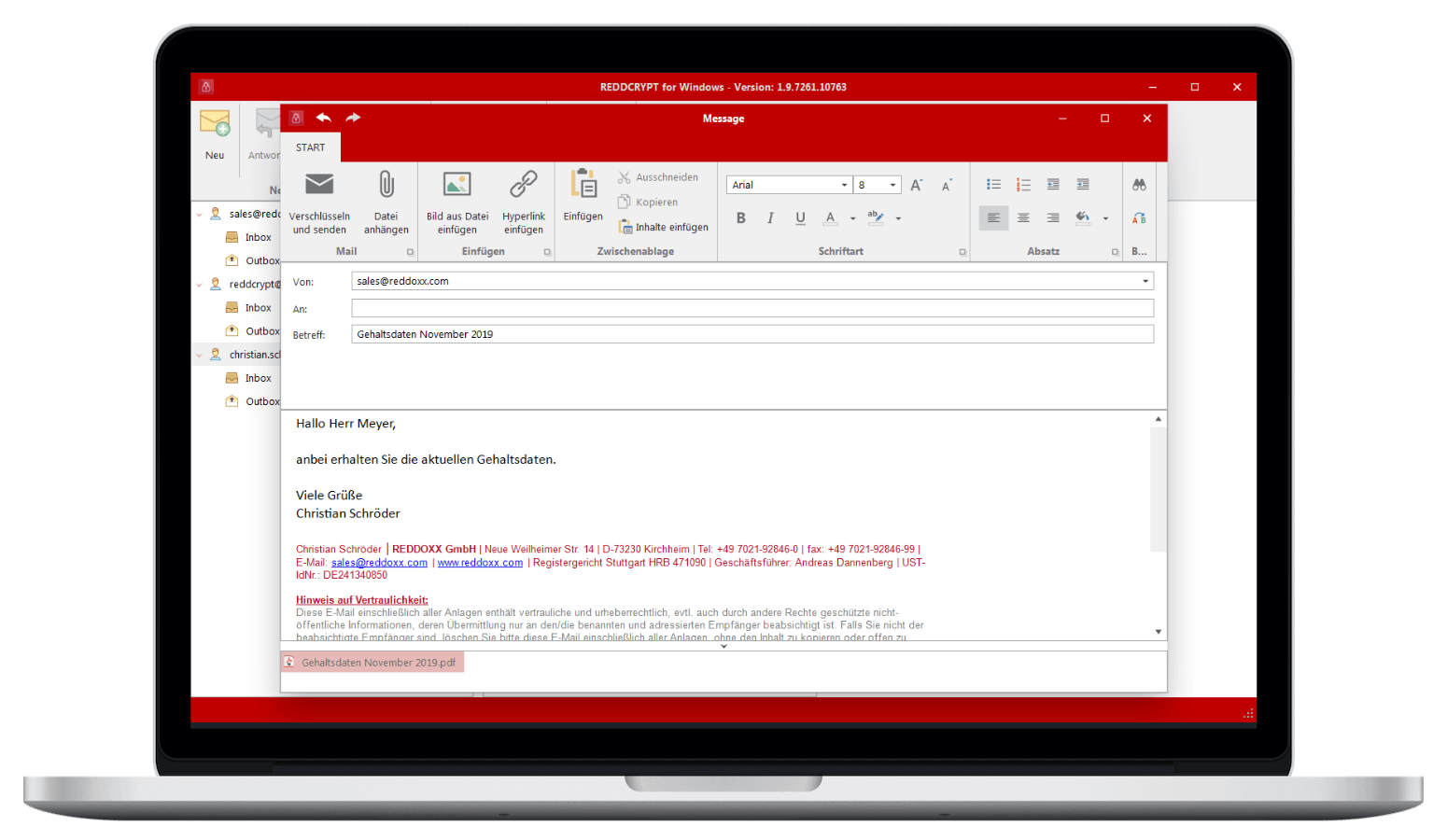 The master key – Keeping control as a business

Decrypting emails of former employees

When emails are encrypted sensitive information should be protected from access by third parties – this is what REDDCRYPT ensures through its end-to-end encryption. End-to-end encryption ensures that only sender and recipient are able to access an email's content.
In the light of sensitive data often containing personal information, wage accounts, monthly settlements or contracts, access to these information may be needed in the future even after an employee has left the company.
For this reason there is the optional possibility to create a master key. With this master key authorized personnel has the ability to decrypt company emails.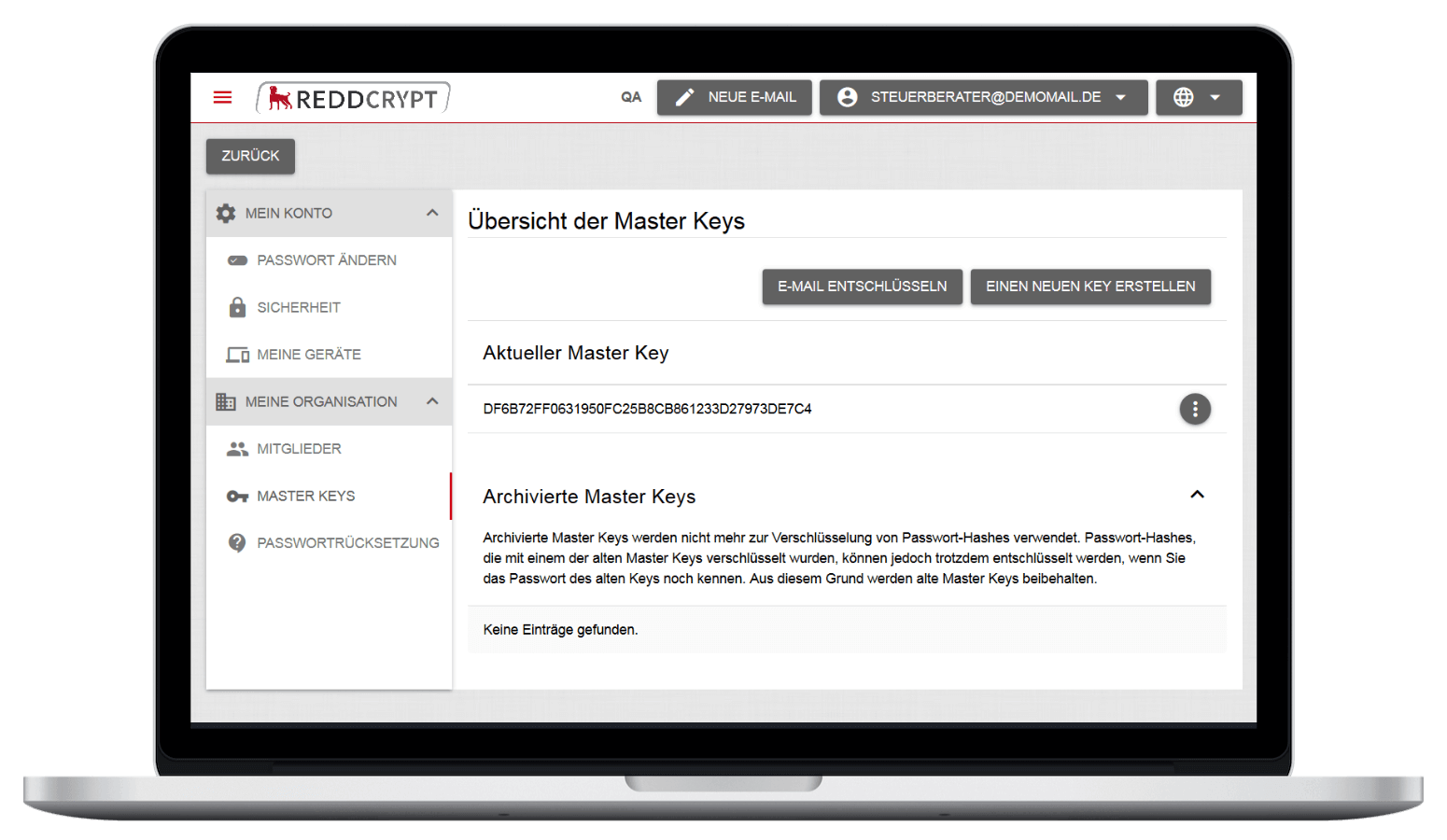 Resetting employee passwords

With the master key in REDDCRYPT Business the passwords of employees can be reset without losing access to old emails.
This functionality combines two of the most important points: In order to make sure that the administrator does not know user passwords, the users themselves and not the administrator define their new passwords.
At the same time it must be ensured that no unauthorized persons gain access to accounts through this function. For this reason the resetting of passwords only works when an administrator confirms the reset.
Overview and management of team members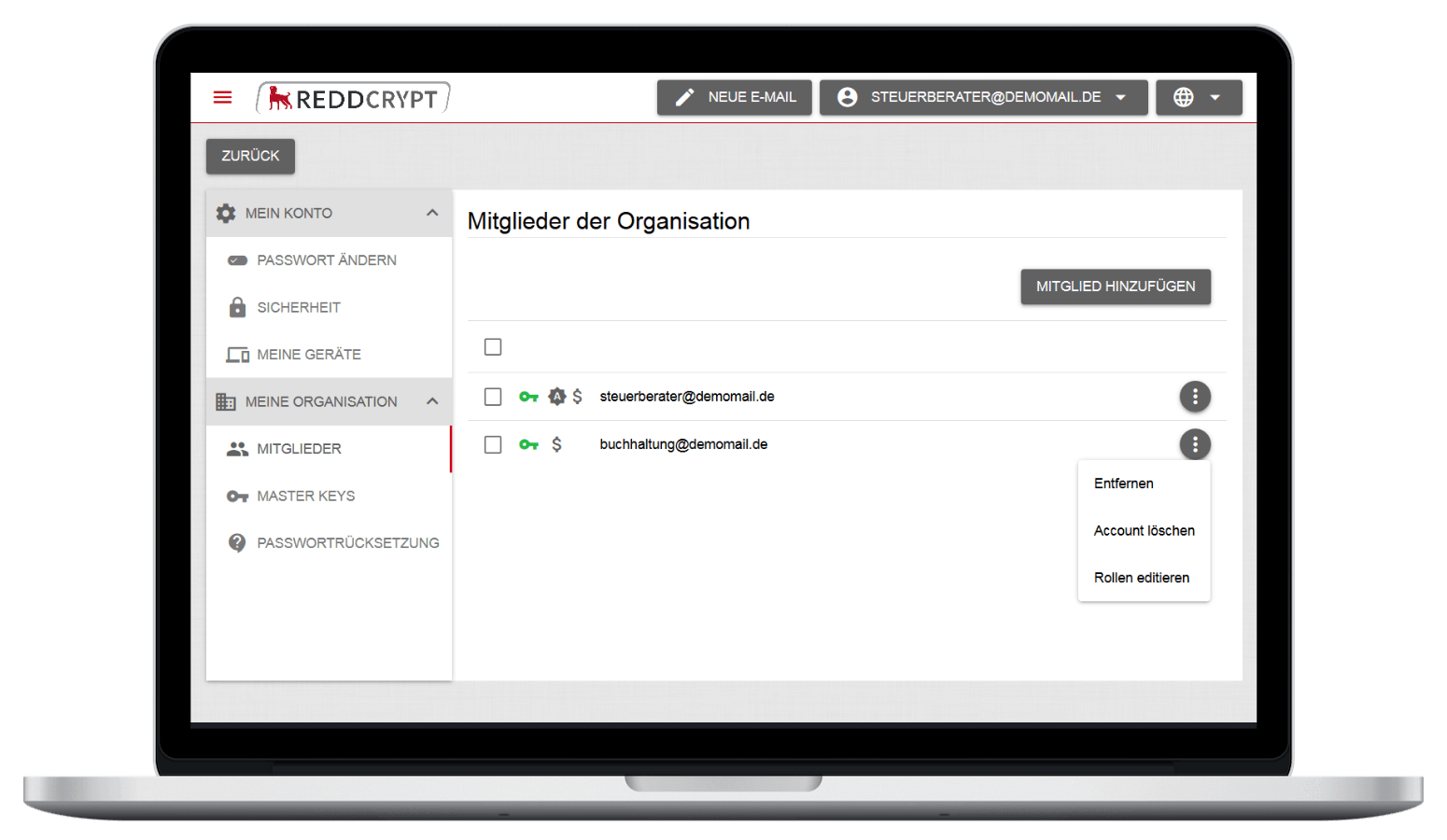 As an administrator you see all users that are have been assigned to your organisation and are able to add new members to your organisation. The green key signals that a user has already been assigned the master key so that you are able to decrypt their emails and reset their passwords.
In order to ensure that former employees can not send emails in the name of the company in the future, administrators are able to delete the account of a former employee. The old emails of said account can still be decrypted thanks to the master key but no new mails can be generated.
2-factor authentication for more security

Often encrypted emails contain highly sensitive information. For that reason it is sensible to secure ones login with an extra layer of protection. This additional layer of security can be achieved with 2-factor authentication (2FA).
To login while 2FA is activated, employees log in via email address and password. Upon login a unique password token is requested. This token is generated through an authentication app (available for free in the AppStore and on Google Play) and is valid for 30 seconds.
Logins are thus protected even if someone gains access to to a user's password because that someone would also need to have access to the user's smartphone.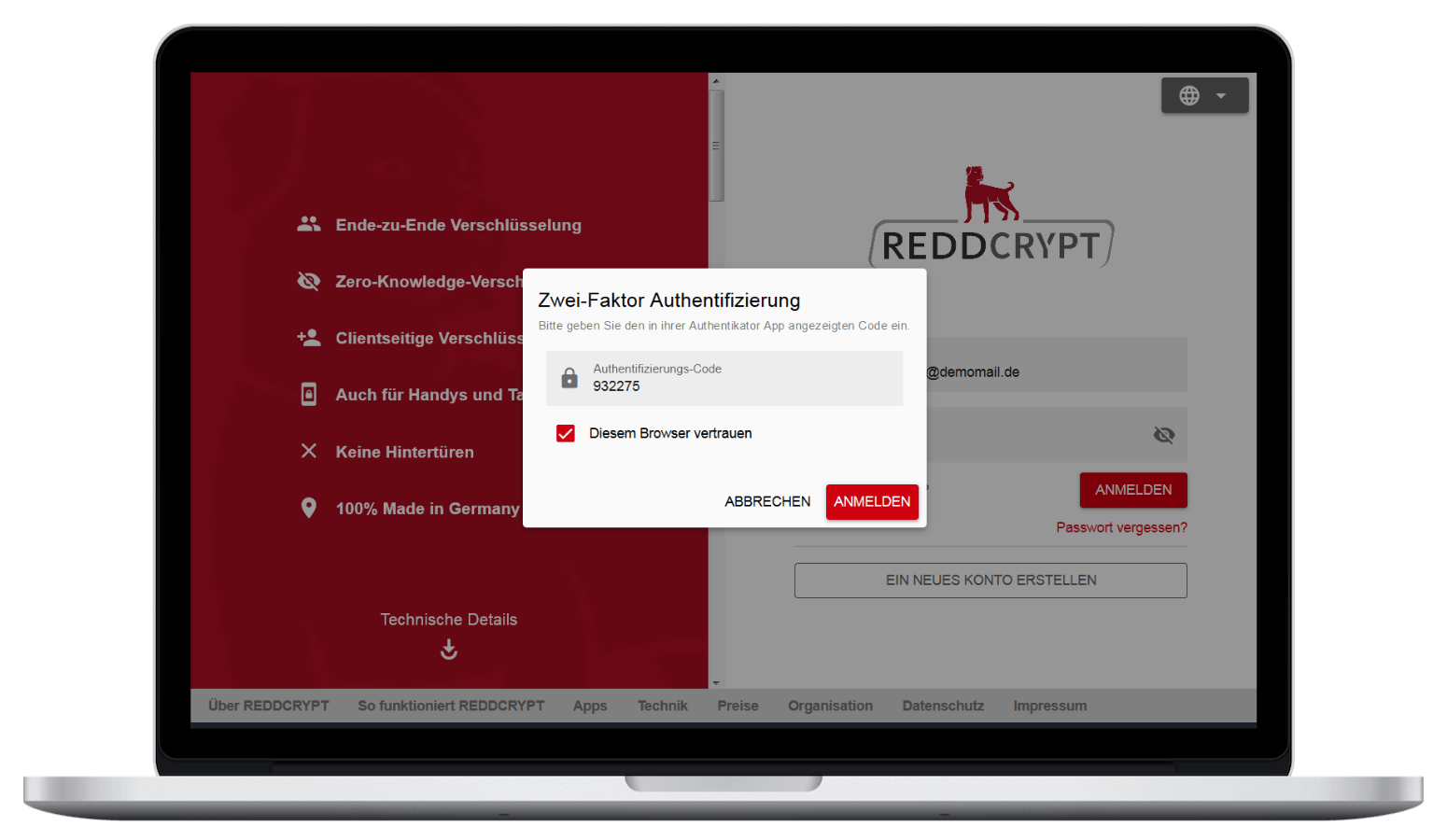 REDDCRYPT Business - try it for free
Non-binding, no automatic extension
---
Try our REDDCRYPT Business version for free and experience how easy and convenient email encryption can be. Thanks  to the REDDCRYPT trial version you may experiment and test all features without any financial obligation.
Register now